One Guide. Countless Options.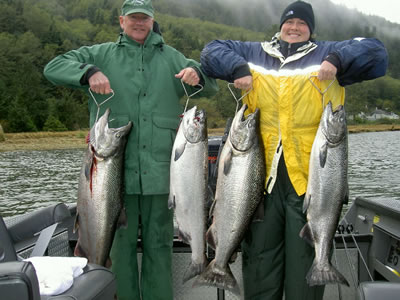 Here in the Pacific Northwest we are truly blessed with vast amounts of unspoiled territory and a wide array of rivers, bays and the Pacific. These waters host some of the finest salmon fisheries in the world.
We fish all the top locations, including Tillamook Bay, Buoy 10, the Columbia and many smaller rivers. (Read more details below.) On every trip we stand a reasonable chance at the trophy of a lifetime, but it's nearly certain you'll always experience the trip of a lifetime. Decades of hard-core salmon fishing and guiding, as well as many consecutive days on the water, ensure that we'll be fishing wherever the fish are. We have the edge when it comes to knowing where, when and how. See our photo gallery for proof.
Oregon offers many distinctly different salmon fisheries that span nearly the entire year. In April and May we target what is arguably the tastiest of all table fare, "Springers" on the Columbia and Willamette rivers. During August and September, Buoy 10 at the mouth of the Columbia explodes with abundant chinook and hordes of coho. In the fall months of October and November we fish our backyard waters including Tillamook Bay and the Wilson, Trask and Kilchis rivers for chinook that can tip the scales up to 60 pounds! We'll also hit the Nestucca and Siletz when conditions are right.
Spring Chinook
Spring Chinook are arguably the best tasting salmon that swim in any waters. (Those "Copper River" Salmon are no comparison.) Fortunately in the Pacific Northwest, we have plenty of opportunity. Although seasonal regulations can vary from year to year, we'll normally fish the main stem of the Columbia from Portland to Bonneville dam, or the Willamette up to the falls. Occasionally, smaller coastal streams come into shape and offer "must-go" days. Predominately, angling is from our 24' Willie Predator where we'll back troll bait or plugs... along with some other specialized techniques we'd rather not share on the internet.
Buoy 10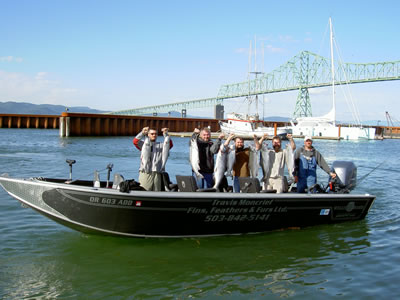 When August roles around the waves of ocean bright chinook and coho roll into the Columbia River at the mouth in Astoria. Infamously known worldwide as "Buoy 10," the area offers the single largest concentration of salmon in the lower 48 States. Huge tidal swings carry fish in by the thousands everyday. The key to catching them is knowing how to read the temperatures and tides to determine precisely where in the 7-mile wide river they will be. This is a widely popular fishery and a prime example of why 10% of the fishermen catch 90% of the fish. You simply must know what you are doing... and we do!
All fishing is done from our 24' Willie Raptor. The weather is often gorgeous. The seas are calm. The memories are ever lasting.
This the perfect trip for corporate "meetings," family gathering and larger groups. We'll gladly enlist additional guides and boats for groups up to 18 people.
Tillamook Bay. Our Home Waters!
Tillamook Bay fall salmon fishing has historically been known as the big fish capital of the West coast. Today, it still remains the best opportunity for landing fish in 50-pound class.
Five different river systems feed into Tillamook Bay, each providing a unique strain of wild and hatchery raised chinook and coho salmon. Like so many fisheries, the conditions can vary greatly from day to day. Having personally lived in Tillamook for over 35 years, I can honestly say that few people know the water like I do. Depending upon water levels, water clarity, tides, temperatures and a number of other factors, we may be bobber fishing a small river in the morning, and trolling the mouth of the bay in the afternoon. It just depends... but you can depend on Fins, Feathers and Furs to know where to go.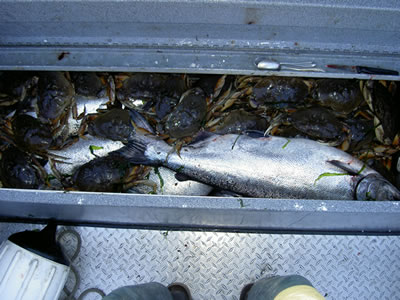 Since Tillamook is my home and backyard, fishing with us comes with some additional perks and amenities you just can't get anywhere else. While we fish, we're also soaking the crab pots. Nothing beats a harvest of Dungeness crab to top off your salmon dinner. What's more, we'll do all the work for you. A quick stop at my home offers a full processing center. We'll clean and pack your fish, cook and clean your crabs and have you on the road in no time. We even have complimentary ice to keep your catch fresh.
A Tillamook trip with Fins, Feathers and Furs is truly a full meal deal. From start to finish your trip is completely thought through with you best interest in mind.
Close to Portland. An easy drive. Tillamook Bay is my backyard. Come let me show you around.