It Still is the "Good Old Days" on The Nushagak.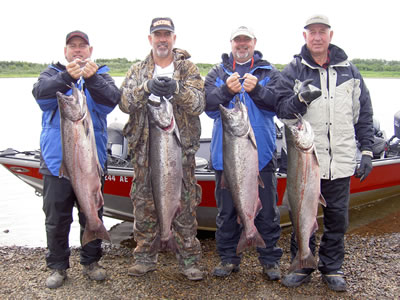 If you have been to the Nushagak, you'll be back again. If you haven't, you won't believe it until you do.
Fins, Feathers and Fur's Nushagak Salmon Camp, located on the most sought after piece of riverside property anywhere, is waiting for a chance to show you salmon fishing like you've only dreamed about. We've proudly fished the same location for 15 years. Suffice it to say; we know this river like no one else.
There is no other river in Alaska, if not the world, that offers more chrome bright, hard-fighting chinook (Kings) than the "Nush." Not the Copper. Not the Kenai. Not anywhere. Check the record books to prove it to your self. Your journey begins by flying into Dillingham, Alaska. From there, we'll take care of everything else. You'll fly 25 miles up river by floatplane and land on the water just in front of our picturesque camp. Step off the plane, we'll grab your bags, and you're minutes away from your first hook up. And more than likely, just the first of hundreds to follow.
At Fins, Feathers and Fur's Nushagak Salmon Camp it's not uncommon to have two, three, even four fish hooked up at once in the same boat. The excitement simply can't compare to anything else. Here, it's all about numbers! Unbelievable numbers of fish! Big numbers of friendly guides and staff! Huge amount of laughs, incredible wildlife, and home cooked Alaskan style meals! While the fishing won't exceed 100 King salmon hooked everyday, 50 fish days are the norm on the Nushagak during the 4-week peak season.
The Finest Heavy-Duty Welded Boats.
You'll fish from one of our custom aluminum Willie Predator boats. These aren't the tin rowboats many other camps use. You'll have all the comfort and safety you desire, with plenty of room for 4 to 6 anglers and gear. The seats may be first class, but don't plan on using them too much. You'll spend more time fighting fish, taking photos and standing in awe of everything this amazing country has to offer. We also offer unlimited bank fishing anytime you're in camp, as long as you stay close to your rod.
First Class Alaskan Hospitality.
Sure, you're going to catch a ton a fish, but in the end it's the entire Alaskan experience that matters most. That's why at Fins, Feathers and Fur's Nushagak Salmon Camp we provide the best accommodations allowed by law. (Due to conservation efforts within the area permanent structures are prohibited.) We go to extensive lengths to bring all the comfort of a permanent lodge to a portable camp. You'll stay at our well-established grounds that sit within yards of the best holes on the river. Lodging is provided with heavy-duty vinyl cabins, complete with solid wood and carpeted floors, two twin beds and complete weatherproofing. You won't find any pup tents on rocky ground here. Our dining hall is equipped with all the best culinary requirements and home to an endless supply of hand-made specialties for your enjoyment. All meals are made from scratch and will have you begging for the recipe when you leave. The camp is fully run by generator power including a well system and hot running water, full functioning showers and restroom facilities.
Remote, Yet Highly Civilized.
By today's standards the Nushagak is still in the heart of Alaska's unspoiled wilderness. All access is by floatplane or boat. There are no roads. The land Fins, Feathers and Fur's Nushagak Salmon Camp occupies is leased from the Choggiung Native Corporation and strictly regulated for limited entry. Our stewardship and continuous respect for the resource is a major reason we hold one of just of a handful of permits. And also the reason why the huge salmon runs still remain wild, prolific and dependable.
Our Guides Are All Pros.
Our reputation gets around. Guides from all over Alaska and the States call us every year to inquire about opportunities. While most of our handpicked guides have been with us for years, occasionally a few seasoned veterans become available and we're first to snatch them up. To work at Fins, Feathers & Fur's Nushagak Salmon Camp, being an exceptional angler is only the beginning. Our guides are trained to cater to your every need, to respect and properly care for fish, and to make your day in the boat the absolute best. Want to learn the details of a new technique? Just Ask. Need to return to camp to take a rest? Just say so. Want to rig your own tackle and bait your own hooks? No problem. While every guide loves to be here, they're only here for one reason: you!
Don't Take Our Word For It.
Ask around. There's a reason 90% of our guests are repeat anglers or referred by someone else that's been here. Our record with Alaska Fish & Game is nothing short of flawless, and we've never been cited for an infraction of any kind.
If the quintessential Alaskan experience is what you're looking for, you found it. Call us now and check availability. We sell out nearly every year. 503-842-5141